The holidays are just around the corner. The stores have decorations galore and before you know it, Christmas music will be playing!
With the holidays comes, the favorite tag line: Eat, Drink, and Be Merry! Who doesn't love that, right?
With the all the festivities that the holiday season brings, it's important to keep things in check. A few weeks ago, I announced on the blog that I've partnered up with Kohl's for their #KohlsFitHoliday project to share some ways that you can stay fit over the holidays. You've worked hard all year to stay fit, so the last thing you want to do is end the year on a low note. Here are five ways you can stay fit over the holidays:
1. Don't Over Indulge: We all have a favorite holiday treat. Whether it's a meal, drink, or dessert, it's something you've probably been looking forward to for a long time. Coming together around food is a big part of the holidays and it's important to treat yourself, but not to over indulge. Enjoy your favorite things, but don't over do it!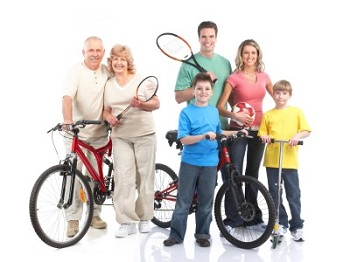 2. Incorporate Family Into Your Fitness: With the holidays comes relatives from near and far. Incorporate them into your routine. Don't let them be the reason you break your routine. Take them to yoga with you, bring them on a run (or walk) around the neighborhood. You might inspire them to begin a fitness regimen by helping them take the first step.
3. Sign up for a fall/winter race: From turkey trots to jungle bell runs, there are many reasons to register for a holiday themed race. This will help you either set a small goal or help keep your training on track. And I'm sure you can find an awesome holiday themed costume to run in too!
4. New Gear for the New Season: With the holiday season comes a change in temperature for most of us. Treat yourself to some new gear for your active lifestyle. Regardless of your sport, you deserve a wardrobe refresh to put some pep in your step. The good news for you is that Kohls has an amazing active wear section that has something for the whole family! Here are some of my favorite pieces from their collection.
5. Step Outside Your Comfort Zone: Yep, you read that right! Now's the perfect time to try something new. Don't be like everyone else and wait for the "new year" to start. Start now. Go into the holidays feeling great about yourself. Think about setting a new goal, try a new activity, or fitness class. Take your run on a new route. Or try that hill you've been dreading. Kohls has a variety of sports and fitness equipment that could help you step outside your comfort zone. You just might find something you like.
This holiday season be sure to take time out for you. Whether you're shopping for new gear or running a turkey trot, these five ways to stay fit over the holidays include time for you. See how you can incorporate at least one of these into your holiday routine! And be sure to share which one you choose!
Disclosure: This is sponsored post. I received products and compensation for this post. As always all opinions and thoughts are my own.